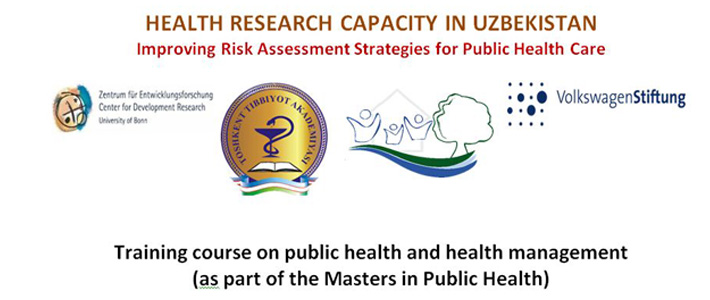 Training course on public health and health management
(as part of the Masters in Public Health)
Dear colleagues and students,
 We invite you to our training courses (workshops) organized by the School of Public Health Tashkent Medical Academy (TMA SPH) and Research and Development Center of the University of Bonn (ZEF BU). The courses will be held daily, from 10 October to 27 November 2016 at the School of Public Health.
Course objective: to give an overview and basic knowledge on public health, health management, research and evidence-based medicine, biostatistics, environmental.
Training will be conducted in English. Seminars and lectures will be conducted by prof. B.Mamatkulov (Director of SPH TMA), O. Mishin (Ministry of Health of Uzbekistan), Dr. V.S.Saravanan, M.C. Emmanuel Rukundo, Dr John P.A. Lamers, Minjung Cho (UniBonn ZEF) on the subjects: Biostatistics; The environment and health; Social scientific approach to health; Testing water quality by instrumental; Management and water hygiene; Health Management, Health Economics: basic concepts and approaches; Surveillance and monitoring of diseases; Spatial epidemiology of diseases and others.
We will be happy to welcome you in our training at the School of Public Health.
With best wishes,
Bahrom Mamatkulov
SPH Director, Professor.
Tashkent Medical Academy