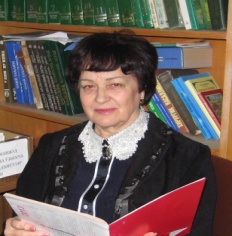 V. Galina Kuzmina
Director of the Informational Resource Center  
Phone: +998(71) 214-82-90,
E-mail: tma-biblioteka@mail.ru
---
Information Resource Center originates since 1920. It is the oldest collection of medical books and manuscripts on medicine and allied profiles in Uzbekistan. Universal content funds generated during the existence of the library, is a collection of domestic and foreign sources in different languages ​​on medicine, biology, medical chemistry, social sciences, the richest fund of fiction and books on art and culture.
Modern conditions require the introduction of new technologies in the service users in the composition and structure of informational materials. For these purposes, created the material and technical base, bought a computer and office equipment. A database of electronic textbooks, which is constantly increasing, for the automated search the electronic catalogue under the "ARMAT" with more than 7,000 bibliographic records.
IRC serves over 8,000 readers , they deployed network subscriptions and reading rooms with working hours to 22 hours. The book fund IRC has 681,594 copies. Of these, a training fund – 168 004 copies, Manuals – 33,511 copies in the national and Russian languages, more than 20,000 copies educational literature in English. The main educational literature translated into electronic format and is 15,597 versions. Reading rooms has 400 seats. Virtual library offers readers access to all electronic resources IRC, 10 computers available on the internet.
IRC operates in accordance with the Regulations, approved by rector. The structure of the IRC are 6 departments on areas of work: Department of acquisition of funds to sectors, the department of scientific processing sectors, the service department of educational literature with the sectors, the service department of scientific literature with the Sector, digitization, computerization and electronic cataloging, reference librarian and media operation, administration and management department. Each department also has the approved documentation.
IRC on the basic parameters of work refers on the 2 nd group of wages. The staff is -51 units.
TMA IRC team is looking for new forms of service, and in this regard there are new and interesting forms of mass work, much of which is held in the reading rooms at student residences: the presentation of individual books and chairs, thematic training seminars at which the reports were accompanied by educational and scientific materials and video slideshow.
Список кандидатских и докторских диссертаций, имеющихся в фонде ИРЦ ТМА