Tashkent Medical Academy was founded on the basis of abolished 1st and 2nd Tashkent State Medical Institutes through the Decree of the President of the Republic of Uzbekistan I.A.Karimov №UP – 3629 as of 19 July 2005.
TMA Facts & History
TMA Facts and the Annual Report are published each year to provide current information and statistics about the academy. You can also read about Tashkent Medical Academy's history.
TMA Facts | Annual Report | History
Visitor Information
TMA welcomes more than 10,000 visitors to campus annually. Whether you live in the neighborhood or are coming from far away, we look forward to seeing you here.
Visitor Information | Campus Tours |  TMA Hospitals (Clinics)
Offices & Administration
The Academy is led by Rector Laziz N. Tuychiyev.
Overview | Rector's virtual reception
Council of the TMA | Administrative departments | Academy Policies
News & Events
Get the latest TMA news and information about upcoming events on campus.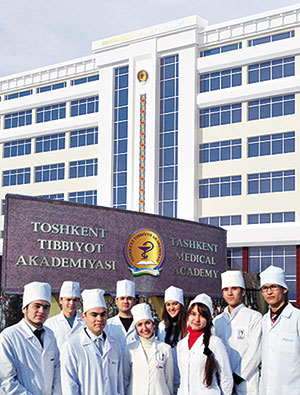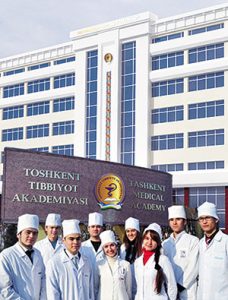 Tashkent Medical Academy Facts at a Glance
Opened 2005
Student Enrollment
Undergraduates: 4234
Graduates: 1111
Campus
8,180 contiguous acres in six governmental jurisdictions
700 major buildings
97% of undergraduates live on campus
Research
6,000+ externally sponsored projects
$1.2 million total budget
Faculty
680 faculty members
4:1 student to faculty ratio